Ever gone shopping and found it hard to get a piece of good equipment that you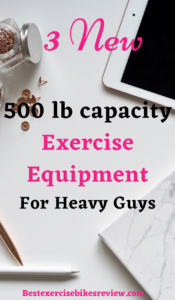 need? This often happens when need exercise equipment but are not sure of the specifications. Though shopping may be different from one machine to another, shopping for 500 lb capacity exercise equipment can be one crazy occasion. You have more limited options here than when shopping for other machines.
For anyone who is heavy, all you want is to get a cardio exercise machine that can support your weight and has all the features you need. This can be difficult especially if you are shopping for exercise equipment for the first time. 
Must read: How much does a treadmill weigh?
But I don't want you to spend many hours trying out figure out which is one right and which one is not. I did some research on the best exercise bike 500 lb capacity. Have a look before you go to the shop.
Top 500 lb capacity exercise equipment
| | | | | | |
| --- | --- | --- | --- | --- | --- |
| | | | | | |
| | HCI Fitness PhysioMill Walking Treadmill | | | | |
| | HCI Fitness PhysioStep RXT-1000 | | | | |
| | Precor EFX 835 Commercial Series | Quiet and comfortable workout | | | |
HCI Fitness PhysioMill Walking Treadmill, Max User 500 lbs
If you are a heavy person, you might love this walking treadmill. Being heavy means you want an exercise machine that will allow you to track your workout progress. This walking treadmill comes with a large display that is easy to read. With the display, you can track your time, speed, pulse, grade, distance, and calories burned. Apart from that, there is also the 6.25-inch step-up height that enables to easily get in and out of the machine. Whether you are heavy or not, you can easily get on the machine thanks to this low step-up height feature.
As the name suggests, this is a rehabilitation treadmill suitable for big guys. It features a handheld start-stop remote that enables therapists to securely carry out rehabilitation while regulating the treadmill belt. If you are worried about your safety on this walking treadmill, there is no need. It is one of the safest treadmills around. 
The treadmill features complete-length therapeutic handrails that provide you with extra support in the retro-walking session. With this machine, there is no need for purchasing other treadmills for other clinical activities. You can use it for different clinical settings like cardiac rehab, neurological, sports medicine, orthopedic, pediatrics, and bariatrics.
If you are looking for a treadmill machine that is easy on the joints, this is the machine for you HCL Fitness has you covered. Not only that but it allows you to increase your speed up to up to 12 MPH for an enjoyable and satisfying workout. This is your heavy-duty bike 500 lb capacity.
HCI Fitness PhysioStep RXT-1000 Recumbent Elliptical Trainer
This recumbent elliptical trainer is your number one workout equipment if you are heavy and need to have a stress-free workout. With this machine, you can be sure to have a low-impact but full body exercise. This is all while sitting in a homely recumbent position. 
With the availability of the dependent legs and ergo-grip handles, you can be sure to power yourself as you work your core muscle groups, legs, and arms. If you can't find the best exercise bike 500 lb capacity, get this elliptical trainer for yourself.
There is also a huge LCD screen that offers you all the workout data in an easy to read and clear format. You won't miss a detail about your progress. Apart from that, this exercise equipment comes with completely modifiable arms, seat, and seat back that features a low clearance walk-through design to support all kinds of users. You don't need to plug in this machine since it is self-powered. 
In fact, this is the best exercise equipment for obese beginners.
Precor EFX 835 Commercial Series Elliptical Fitness Crosstrainer
This is another 500 lb capacity exercise equipment that you should consider investing in. If you ever thought of getting yourself an exercise machine with moving arms, this is the one for you. The moving handlebars ensure that you have a total-body workout. There is also a patented modifiable CrossRamp technology that lets you adjust the elliptical path height to fit your needs.
The presence of the 15 preset programs makes this machine easy to use even for beginners. Together with the 20 levels of resistance, you can easily tailor your exercise to your fitness objectives and remain challenged.
This elliptical crosstrainer machine is among the best exercise equipment thanks to the huge running surface that makes it suitable for dedicated walkers, athletes, and runners. The Cross-ramp Technology that comes with this machine allows you to target particular muscles or any important lower-body muscle combinations by altering the cross-ramp angle.
The inbuilt transport wheels make it easy for you to move this machine around the home or wherever you are using it. You can easily move it to another room as you clean the other thanks to the wheels. 
The controlled low-impact EFX movement is quiet and natural. This makes your exercise more comfortable and enjoyable. It also makes this 500 lb capacity exercise equipment suitable for homes.
500 lb capacity exercise equipment Conclusion
One thing you might have noted when shopping for exercise bike 500 lb capacity, is that most of them are heavy. So, it can be hard to move them around. That means you should get one with transport wheels. If you also enjoy a total body workout, consider one with moving arms. For those who are not heavy, there are other exercise machines with 300 lb weight capacity.